Oil Change Dublin OH

The Dennis Hyundai of Dublin team is equipped to satisfy the full spectrum of automotive needs. This certainly includes providing an oil change in Dublin, OH. To show you the kind of support waiting for you here, we've drawn up this brief introduction to our service center. We've also provided some valuable information related to oil changes. Jump in to get started.
Service Center
Meet the Team
The experts you'll find in our service center are factory trained and certified. You can count on them to have the experience and skills to provide your Hyundai with all the care and attention it requires to continue performing at the same high level you've come to expect. On top of that, they'll work hard to get you back on the road as quickly as possible.
Our Dublin OH Oil Change Services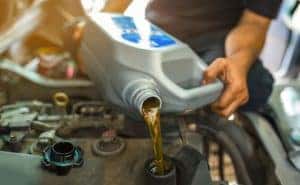 Switching out the oil and replacing the oil filter are not the only services performed during an oil change appointment. Other tasks completed at this time include checking all fluids. If any fluids need to be filled, this will happen right away. The belts will also be checked and replaced as needed.
The car battery will be inspected as well to check for any signs of leaking, corrosion, or other damage. The battery will also be tested to make sure it's in proper working order.
In addition to all this, it's also a good idea to have your vehicle's tires rotated. Having this performed with every oil change is a good way to promote tire longevity and stay ahead of any wear and tear on the surfaces of your tires.
Why Oil Changes Are so Important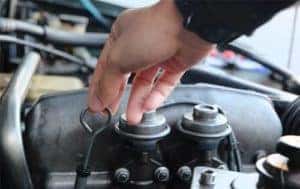 The job that oil performs inside your car's engine is vital to making sure it operates the way it should. Oil is there to cool, clean, and lubricate the engine's various moving parts. As it ages, oil loses its effectiveness. Eventually, it will start to collect any dirt and debris in its path. If this situation worsens, sludge will develop that can cause the engine to quit working completely. Having the oil changed regularly will prevent this from happening.
How Often Oil Changes Should Occur
The kind of oil your engine uses determines the frequency it should be changed. The engines that propel older cars run on conventional oil that needs to be changed every 3,000 to 5,000 miles. If you drive a newer car that takes synthetic oil, an oil change is generally recommended between 6,000 and 7,500 miles.
Oil Change near Me
If your vehicle needs an oil change near Dublin, Ohio, you're welcome to contact the team here at Dennis Hyundai of Dublin to schedule your appointment at your earliest convenience. We'll gladly provide this vital automotive service.