Hyundai Sonata vs Honda Accord


The Dennis Hyundai of Dublin team would like to offer a hand to Columbus, Dublin, and Powell, Ohio, drivers looking for the right midsize sedan for their everyday commutes. If you're considering the Hyundai Sonata and the Honda Accord, you're certainly on the right track. We've come up with this Hyundai Sonata vs. Honda Accord comparison to help you narrow down your options even more. Take a look to find out which one it will be.
Hyundai Sonata vs Honda Accord: The Safety Comparison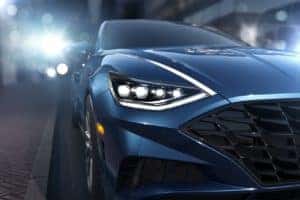 Whether you're dropping off your kids at school or participating in your office's carpool to work, the Sonata has what it takes to help keep everyone on board safe. For starters, there's the Rear Occupant Alert. Once you've reached your destination, it will remind you to check the back seat to make sure you don't leave behind a child, a pet, or an important item. While this feature comes standard in the Hyundai Sonata, you're not going to find it in the Honda Accord.
The Safe Exit Warning is another safety feature missing from the Accord. This available Sonata feature makes it possible for everyone to leave the car safely by letting you know if a vehicle is approaching.
Another feature standard in the Sonata but not available in the Accord is Driver Attention Warning. It keeps track of your driving behavior to help you determine if it's time to pull over and take a break. Driver Attention Warning is sure to come in handy when you're on the road late at night or when the drive ends up being longer than originally planned.
Hyundai Sonata vs Honda Accord: Interior Dimensions and Convenience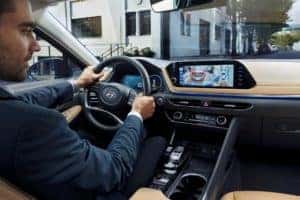 From front to back, you can count on the Hyundai Sonata to provide plenty of room for you and all your passengers. Whether you're transporting your kids or your coworkers, it's got you covered. Some of the spacious cabin measurements include 40 inches of headroom in the front-row seats and 38.4 inches of headroom in the back seats. No matter who shares the front row with you, you'll enjoy a generous 46.1 inches of legroom.
The Accord does not offer its occupants as much personal space. There are only 39.5 inches of headroom and 42.3 inches of legroom up front and 37.3 inches of headroom in the back.
Both these sedans come standard with 8-inch touchscreen displays on the dashboard. However, the available 10.25-inch screen found only in the Hyundai Sonata allows you to access the audio channels and adjust the settings easier and quicker. As a result, you'll be able to devote more of your attention toward the drive itself.
Hyundai Sonata vs Honda Accord: Which One Will Be Your Next Midsize Sedan?
With its superior safety features, abundance of comfortable interior space, and handy conveniences, the Sonata reveals itself to be the better option over the Honda Accord. Now that you know, the next thing to do is contact the team here at Dennis Hyundai of Dublin, serving Powell, Columbus, and Dublin, OH. When you do, we'll be able to get you set up with a convenient day and time to take your Hyundai Sonata test drive.