Hyundai Santa Fe vs Hyundai Tucson

---
Are you a driver in the Columbus, Dublin, or Powell, OH, area who's trying to decide whether it's going to be the Hyundai Tucson or the Hyundai Santa Fe that will match your lifestyle needs better? The Dennis Hyundai of Dublin team would like to help. We've created this brief side-by-side comparison of the two models to give you an idea of what each one has to offer. Dive in to check them both out.
---
SHOP OUR HYUNDAI TUCSON INVENTORY
SHOP OUR HYUNDAI SANTA FE INVENTORY
---
Hyundai Tucson vs Hyundai Santa Fe: Robust Performance Capabilities
When it comes to the power you'll find under the hood, you're sure to agree these two Hyundai SUVs are rather evenly matched. Here's the engine lineup for the Tucson:
2.0-liter inline 4-cylinder engine
2.4-liter inline 4-cylinder engine
The 2.0-liter inline 4-cylinder engine comes standard in the Hyundai Tucson. It supplies a maximum 161 horsepower. The available 2.4-liter inline 4-cylinder engine has your back even more with as much as 181 horsepower. See below for the two Santa Fe engine options:
2.5-liter inline 4-cylinder engine
2.5-liter inline 4-cylinder Turbo engine
The standard 2.5-liter inline 4-cylinder engine can generate up to 191 horsepower, while the output you can expect from the available 2.5-liter inline 4-cylinder Turbo engine is a commanding 277 horsepower. All four of these machines are capable of getting you from Point A to Point B easily no matter what type of challenges you may face along the way.
---
Spotlight on Safety Features
There are a lot of useful safety features to go around inside both these accommodating SUVs. One highlight that comes standard with both models is Driver Attention Warning. If you spend a lot of time on the road, this feature comes in handy by alerting you when your driving behavior indicates that you could use a break.
The Santa Fe and the Tucson both also come standard with the Tire Pressure Monitoring System that helps you get the safest performance out of your tires by letting you know when one is running low on air.
If you frequently make your way through hilly terrain, you might be interested to know that the Hyundai Santa Fe comes standard with Hillstart Assist Control. This system kicks into action when you're ready to get moving again after being stopped partway up a hill. It prevents your vehicle from rolling the wrong way back down by continuing to apply the brakes long enough for you to move your foot over to the gas pedal.
The Santa Fe also supplies Rear Occupant Alert. This standard feature makes sure no one is left inside the car by reminding you to check the back seat once you've arrived at your destination.
Another feature found in both vehicles is Smart Cruise Control with Stop & Go. It's a standard aspect of the Santa Fe and available in the Tucson. This is sure to be a valuable asset since it's able to adjust your speed according to that of the vehicle ahead. It does this to maintain the pre-selected safe following distance between you and the vehicle in front of you.
---
Hyundai Tucson vs Hyundai Santa Fe: A Look at Comfort
Both the Tucson and the Santa Fe make sure their occupants have all the space they'll need for a comfortable experience on the road. For instance, the second-row headroom measurement for the Tucson and the Santa Fe measures 39.2 inches and 39 inches, respectively. On top of that, there are a lot of opportunities to sit back and relax. Here are some of the numbers to prove it:
Legroom

(First Row / Second Row)

Shoulder Room

(First Row / Second Row)

Hip Room

(First Row / Second Row)

Headroom

(Front Row / Second Row)

 Hyundai Tucson
 41.5 inches /

38.2 inches

 57.1 inches /

55.5 inches

 55.6 inches /

54.5 inches

 39.6 inches /

39.2 inches

 Hyundai Santa  Fe
 44.1 inches /

41.7 inches

 59.1 inches /

58.3 inches

 57.5 inches /

56.3 inches

 41.2 inches /

39 inches
Regardless of which model you choose, you and your passengers can expect a roomy ride, whether you're participating in the carpool to the office or taking your kids to the movies. Dimensions like the 41.5 inches of front legroom in the Tucson and the 39 inches of headroom in the back of the Santa Fe see to this.
---
Convenience Characteristics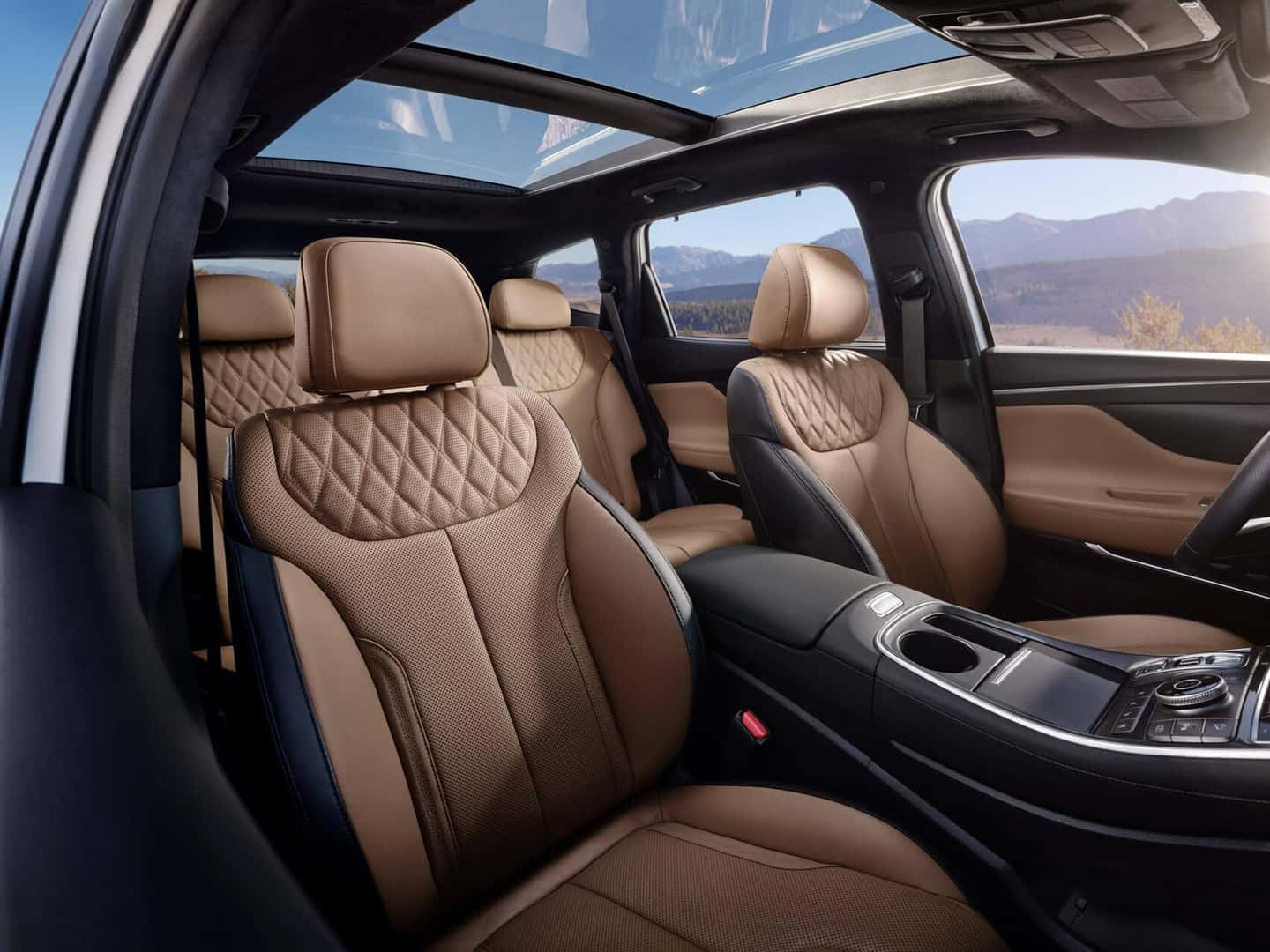 One aspect of convenience the Hyundai Tucson and the Hyundai Santa Fe share is the wireless device charging feature. Available in both models, this feature enables everyone on board to have fully powered mobile devices without having to bring along any unnecessary cords.
Not only is each SUV available with heated front seats that make it easier for you and your front-seat passenger to escape the colder temperatures, but they're also both available with heated rear seats. These allow the folks in the back row to get nice and toasty as well.
The Hyundai Santa Fe has your back if you happen to be on the road when it starts to rain. The available rain-sensing windshield wipers provide a clear line of sight, whether it's a light drizzle or a downpour, while allowing you to keep both hands firmly on the steering wheel for maximum control.
The heated side mirrors available on both cars are bound to come in handy as well. They'll make it easy to  clear off any bothersome ice or snow that has accumulated to supply you with as much awareness as possible.
The Hyundai Santa Fe and the Hyundai Tucson are also available with a panoramic sunroof. Both vehicles make use of this feature to provide you and your passengers with plenty of sunlight and fresh air on a warm summer day. Plus, you're in for some rather unforgettable scenery when it comes to stargazing at night.
---
---
Hyundai Tucson vs Hyundai Santa Fe: Schedule Your Test Drive Today
Now that you've read a few highlights that make the Tucson and the Santa Fe such impressive vehicles, it's time to get an even closer look at the one that most appeals to you. If you live or work near Powell, Columbus, or Dublin, Ohio, contact the team at Dennis Hyundai of Dublin today to set up a convenient day and time to take a couple test drives.
---