Hyundai Palisade vs Honda Pilot

Are you trying to decide whether the Hyundai Palisade or the Honda Pilot has what it takes to fit your Columbus, Dublin, or Powell, OH, lifestyle? The team at Dennis Hyundai of Dublin has placed these two models side by side to help you find out for yourself. Take a moment to read through this Hyundai Palisade vs. Honda Pilot comparison to see which one provides you with the driving experience you prefer.
SHOP OUR HYUNDAI PALISADE INVENTORY
Hyundai Palisade vs Honda Pilot: The Convenience Comparison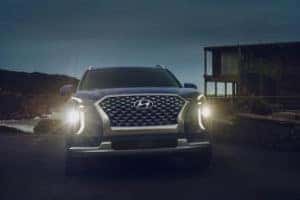 Whether you're running errands, commuting to work, or taking a road trip, you likely appreciate having handy features to make your time on the road easier and more enjoyable. The Palisade certainly has you covered. A key example is that it comes standard with Rear Seat Quiet Mode. If your passengers in the back seats are trying to get some rest, this feature allows you to listen to music in the front of the vehicle without bothering them.
The Heads-up Display is another handy feature you'll find in the Hyundai Palisade. It helps you keep track of how fast you're going and other aspects of the vehicle's operation without having to take your eyes off the road. The information found in the Heads-up Display is projected directly onto the windshield in your line of sight. Neither of these features is available in the Honda Pilot.
Safety Features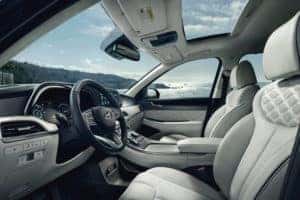 There are several safety features that help the Hyundai Palisade stand out. The Ultrasonic Rear Occupant Alert is certainly one of these. This available feature kicks in the moment you arrive at your destination, reminding you to check the back seats for a small child, a pet, or an important package to ensure no one and nothing gets left behind. This is not something you'll find in the Pilot.
Highway Drive Assist is another feature only available in the Palisade. When you're driving on the highway, it can control acceleration, deceleration, and steering. As a result, you'll have a lot less to think about.
Hyundai Palisade vs Honda Pilot Performance Capabilities
The Palisade continues to come out on top as we consider what each vehicle has to offer under the hood. This statement is supported by the 3.8-liter 6-cylinder piece of machinery that boasts a maximum output of 291 horsepower. This engine ensures you'll be able to pass other vehicles or climb steep hills easily.
While the engine inside the Pilot comes close, its 280 horsepower doesn't give you quite as much oomph in the acceleration department.
READ MORE HYUNDAI PALISADE REVIEWS
Hyundai Palisade vs Honda Pilot: The Results Are In
The Palisade uses features like Rear Seat Quiet Mode, the Ultrasonic Rear Occupant Alert, and its 291 horsepower to improve your overall driving experience. If you're ready to discover how this fully capable SUV can handle those Columbus, Powell, and Dublin, Ohio roadways, contact us here at Dennis Hyundai of Dublin. We'll be happy to help you schedule a convenient time to take the Hyundai Palisade for a test drive.