Hyundai Santa Fe vs Subaru Forester


Folks in Columbus, Dublin, and Powell, Ohio, have a lot of options when it comes to tracking down the SUV that will satisfy all their driving needs. If you're interested in finding out what the Hyundai Santa Fe and the Subaru Forester have to offer, you've chosen two of the most impressive sport utility vehicles on the market today.
To help you narrow down your options even more, the experts here at Dennis Hyundai of Dublin have put together this brief comparison between the two models. Continue reading to find out whether it's the Hyundai Santa Fe or the Subaru Forester that comes out on top in the categories of convenience, entertainment, and comfort.
Hyundai Santa Fe vs Subaru Forester: A Quick Look at Convenience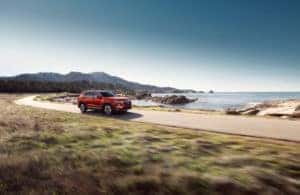 Whether you're taking a trip across the state or simply running errands around town, you and your passengers likely prefer having full access to your smartphone and other devices. Regardless of how long the ride proves to be, the wireless device charging available in the Santa Fe has your back.
As an additional convenience, no one will have to pull out any of those unruly charger cords. All you'll have to do is place the device on the pad and let it do its thing. This is not a feature you'll find in the Forester.
Comparing Entertainment Attributes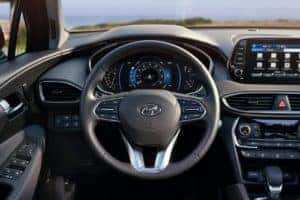 The Hyundai Santa Fe continues to hold its own against the Subaru Forester as we move on to entertainment. If it's important for you to have a quality listening experience as you travel, you'll be glad to know the Santa Fe has you covered. It's available with the Infinity® Premium Audio system that allows you to fill the cabin with your favorite tunes, talk radio programs, or ballgames via 12 full-bodied speakers.
The highest number of speakers you'll find in the Forester is far fewer at nine.
Hyundai Santa Fe vs Subaru Forester: The Question of Comfort
Both these SUVs make sure their occupants have plenty of personal space to enjoy. This is evident by examining their measurements for legroom and shoulder room as shown in the table below.
First-Row Legroom /

Second-Row Legroom

First-Row Shoulder Room / Second-Row Shoulder Room
Hyundai Santa Fe
44.1 inches / 40.9 inches
59.1 inches / 58.3 inches
Subaru Forester
43.3 inches / 39.4 inches
58.2 inches / 57.2 inches
While they're close, the Santa Fe allows you and your passengers to make use of a bit more wiggle room no matter where you're seated. You're sure to appreciate this extra comfort whether you're going out to the movies with your kids or on a double date.
Hyundai Santa Fe vs Subaru Forester: Which One Will Be Your Next SUV?
With features like wireless device charging and 40.9 spacious inches of legroom in its back seat, the Santa Fe simply outshines the Forester. If the Hyundai Santa Fe sounds like it has what it takes to fit in with your sensibilities, priorities, and lifestyle, contact the team at Dennis Hyundai of Dublin today to take it for a test drive.